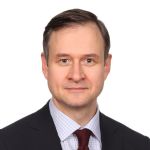 About the Presenter:


Boris Malyugin MD, PhD
Professor of Ophthalmology

Dr. Boris Malyugin is the Deputy Director General (R&D, Edu.) of the S. Fyodorov Eye Microsurgery State Institution in Moscow, Russia.

Dr. Malyugin is an expert in the field of modern anterior segment surgery, establishing himself at the forefront of advanced cataract surgery by pioneering numerous techniques and technologies.

Dr. Malyugin is well known for his educational activities in Russia and abroad. He is having multiple international awards and was invited to participate with lectures and live surgeries in many National and International meetings.

Dr. Malyugin is a Board member of the Russian Society of Ophtalmolgists and European Society of Cataract and Refractive Surgeons. He is also a member of International Intraocular Implant Club and Academia Ophthalmologica Internationalis.

He is a Chief Medical Editor of Ophthalmosurgery Journal (Russia) and Russian Eurotimes, also Editorial Board Member of the Journal of Cataract and Refractive Surgery, Cataract and Refractive Surgery Today, Eurotimes (Intl. edition), Ocular Surgery News, EyeWorld and some others.