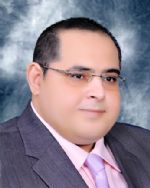 About the Presenter:


MD. Lecturer Of Ophthalmology, Sohag University Hospital.
Refractive Surgeon and Corneal Expert.
Published 12 articles in International and Egyptian Ophthalmological Journals.
Interested in the research field of CXL, Intrastromal Ring Implantation and Keratoplasty.
Previous presenter in AAO 2013 in New Orleans and 9th International CXL conference 2013 Dublin.
And accepted as a presenter in ESCRS Winter Meeting 2014 in Slovenia.